Tell Tale Penguin Party at Confusion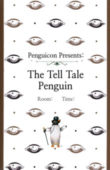 Join us this weekend at Confusion for our literary inspired party. We will be raffling off books from our Guest of Honor, inspiring you with a mix of funky tunes, and tempting your taste buds with yummy snacks and fun drinks.
We will also be offering a weekend only promo code for $10 off of registration. So stop by on Saturday night to find out what is happening this year at Penguicon.