Ribbon Ordering Now Open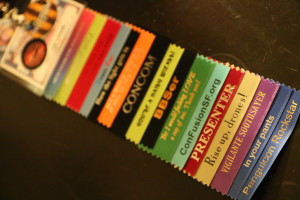 It is the moment that everyone anxiously waits for each year: The ribbon ordering form. We have been hard at work finding a new vendor for our ribbons this year in order to provide everyone with high quality and lowest cost ribbons. We believe we have found a great vendor and look forward to ribbon success this year. We will be using Hodges Badge Company Inc. to create the ribbons and paypal to process the payments. Hodges requires a 25 ribbon minimum and will run $.16 per ribbon and a $11.50 set-up fee. 25 ribbons will come in under $20. You can fill out the form to get your order started here.
If you have any questions about ribbons please contact registration@penguicon.org.