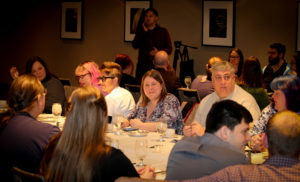 We're once again planning our yearly intimate dinner with our Guests of Honor. It's laid-back and casual — more like relaxing with your friends than an official banquet. We are all one community, from the person who is attending for the first time or the returning Guest of Honor (GoH) that has been with us for years.
Thursday, May 2, at 7 pm
The Westin Southfield, in the "TC's Private Dining Room" on the main floor. (From entering the front doors, turn left, and it's the banquet room just past the actual restaurant.)
$25 per person, which includes tip. Alcoholic beverages are extra. Credit cards (via Square) and cash will be accepted.
Please RSVP with the size of your party and what they'd like to eat.
You should join us! Everyone in the community is welcome to come out and spend a little time with our staff and Guests of Honor before things go crazy on Friday!
RSVP today so the chef will know how much food to prepare! Check out our form for the really incredible dining options available – we even have a vegan gluten free option, if that's your thing!
See you in less than two weeks!