Promoting Creators in our Community
Intended to highlight our community artists, Penguicon's Maker Market spotlights crafts, art, and electronic projects. We do not accept resale vendors, which means our vendors have created or designed the products they sell.
Makers are selected by the Con Committee based on quality, variety, type of merchandise, relevance to the Penguicon concepts (Open Source and SF or general fandom), and whatever adds the most to the Penguicon experience.
These vendors (and more) can be found in the Secure Maker Market Room, just down the hall from the Registration Desk.
Makers in our Maker Market
Hi! I'm the 8 Bit Enemy and I run the 8 Bit Item shop alongside my partner, Pixel Girl!
Come gawk, marvel and stare at our 8 bit items that look like they've been ripped right out of your favorite video games!
If you like what you see (and you will) then go ahead and "Buy somethin' will ya!". So come on in and Let's be ENEMIES!
Art by Zaheroux is the studio of Ann Arbor based artist, Megan Weber.
Inspired by Gothic architecture, nature, animals, and a touch of whimsy she creates her illustrations using color pencil.
Creepy cute plush dolls, accessories, and more!
*
*
*
*
Crystal Mielcarek Illustration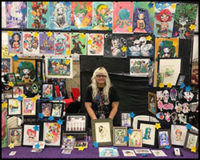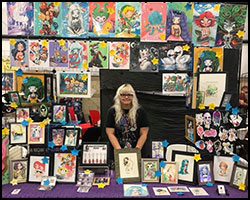 Detroit artist Crystal Mielcarek paints adorable things in desperate situations.
Identifying mainly with the lowbrow art scene her work is an odd combination of the cute and the perverse.
Her unique style allows the pieces to oscillate freely between whimsical, cute, and sometimes wildly disturbing imagery while maintaining its sense of humor.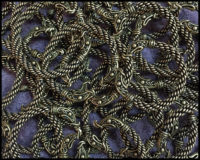 Crafty Celts: Danny Hansen
Historically authentic Celtic and Viking jewelry, as seen in in Vikings, Spartacus, Reign, and Beowulf & Grendel!
All crafted by hand in bronze and sterling silver in our workshop in South Carolina.