Promoting Creators in our Community
Intended to highlight our community artists, Penguicon's Maker Market spotlights crafts, art, and electronic projects. We do not accept resale vendors, which means our vendors have created or designed the products they sell.
Makers are selected by the Con Committee based on quality, variety, type of merchandise, relevance to the Penguicon concepts (Open Source and SF or general fandom), and whatever adds the most to the Penguicon experience.
These vendors (and more) can be found in the Secure Maker Market Room, just down the hall from the Registration Desk.
Makers in our Maker Market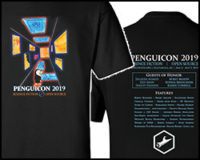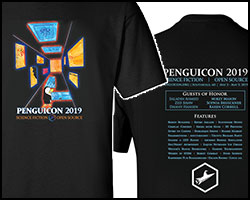 OffWorld Designs
OffWorld Designs has original t-shirt designs including the 2019 Penguicon t-shirts.
Stop by for great shirts designed for fans of SF, Fantasy, Gaming, Comics and more.
PREORDER YOUR PENGUICON SHIRT TODAY!
Steampunked is a Mixed Media Steampunk Themed Polymer Clay Artist, combining Clay, metals, vintage and found objects to create sculptural, free standing, wall hanging and wearable art.
*
*
One of a kind chainmaille and scale maille art. Jewelry, wearable art and household items.
*
*
*
*
Ties that Bynde Designs specializes in high quality corsetry.
We carry a variety of styles and sizes for both men and women to suit many body types.
All corset are hand constructed by the owner and designer who has studied corsetry with the best corsetmaker in the world.