Anime Track Featured Guests: The Grim Reaper Girls and Paul Kemner
The Grim Reaper Girls (also known as The Shinigami Kami) are back bringing you The Black Butler Tea Party in new and exciting ways!  
The crew this year features author A. Carina Spears and researcher Star Stramel along with special guests Paul Kemner as Abberline, and Natasha as Ronald Knox to give you 'simply one hell of a good time!'  
Whether you visit us at our Victorian-style tea or eat Pocky at our modern day club with Ronald Knox, we'll give you a fun event you won't want to miss.
A. Carina Spears writes horror, fantasy, sci-fi, and romance.  Her latest book "Paladin's Honor" (a romance for the AD&D crowd) is expected to come out later this year.
Star Stramel does research for authors like you, so you don't have to! She is also working on a podcast and writing for The Good Times local news flier.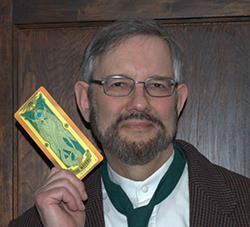 Paul Kemner's a bit older than Godzilla, watched the original broadcast of the Astro Boy series, and has been a fan of anime ever since. When he's not writing and tuning SQL, he enjoys geeky hobbies, studies ancient & modern polytheist relgions, plays exotic instruments, and writes.
His novelette, "A Wrecking Bar, a Chocolate Bar, and a Ka Offering for NaNeferKaPtah" is a favorite read for Egyptologists, and "Fowl Fiends of the Great Black Swamp" appears in Down Home Country Vampire. Current musical challenges are Japanese Shakuhachi and Shinobue, and Chinese Dizi and Xiao. This is Paul's 10th year at Penguicon, presenting 28 hours of programming over the last 5 years!
Track Highlights
Black Butler AMV Tea Party
Reapers work hard and party harder! Come join Ronald Knox, Abberline, Ankou D Undertaker, and William T. Spears as they light up the night as only grim reapers can! Sample a bevy of non-alcoholic drinks. Enjoy Japanese snacks and mingle as we watch videos, run a few games like the best Tsundere turn-away, and dance the night away.
Supernatural Anime: The Creepy, the Scary, and the Fun
Japan has the widest and weirdest menagerie of supernatural beasties and ghosts, and they haunt the world of anime too! With influences from Shinto and Buddhism, folk tales, and urban legends, you're never quite sure what will happen next. We'll geek out on our picks of what's worth watching and why.
Steven Universe Sing-A-Long – with Ukuleles!
All we wanna do, is see you turn into, a giant woman (A GIANT WOMAN!) – and sing along with us! Whether or not you have a ukulele, join us as we sing and play some of our favorite songs from this incredible show. Don't know how to play the ukulele? We can teach you basic chords! Come and share this jam with us!
To see the rest of the track and all the rest of the events at Penguicon, check out our Schedule for 2019!