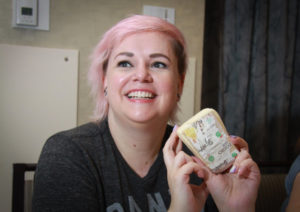 Food Track Highlights
Cheese: Young & Spry or Aged & Sharp?
Shannon and Maggie return with another flavorful cheese tasting panel. Come discover if you like your cheese young and spry or aged and sharp. We will compare and contrast three different cheeses in both their "young" and "aged" stages. Come prepared to have your taste buds stimulated and your minds blown.
LN2 After Hours Ice Cream
Our classic Liquid Nitrogen Ice Cream! Late night ice cream ingredients may include beer, cider, mead, or liquor. Admission will require 21+ ID (proof of legal drinking age). We'll also teach the basics (safety, proportions) and coach anyone who wants to learn to stir or do all this on their own! As a reminder, we make inclusive ice cream. We have non-dairy bases and sugar-free sweeteners on hand. We're prepared if you speak up. We want everyone to be able to enjoy!
The different kind of home brew
Honey, yeast, water, and time. When you combine these four ingredients and a little bit of knowledge you get a delicious (alcoholic) beverage called mead. We'll talk about the basics of brewing possibly the world's oldest fermented beverage and what you can do to make it your own.
Will it Sphere-ify
Spherification is a technique that transforms liquids into solid, edible spheres. People can use this technique to add color, texture, and flavor to their dishes. Join me as I experiment with spherification and try out a bunch of different liquids and see, WILL IT SPHERIFY?
To see the rest of the track and all the rest of the events at Penguicon, check out our Schedule for 2019!