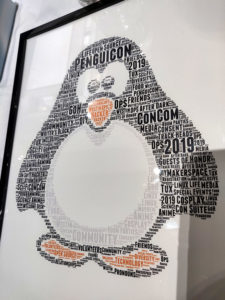 Thank you so much for making this Penguicon one of the best ever!  I'm sure we'll have a post summing up this year when we get unburied from packing out, but we didn't want to waste time in reminding you that we are always, always open for feedback – both good and bad.
If you had a great experience, tell us about what made it great, and if we can do something better next year, please don't hesitate to share that with us, too.
As an all-volunteer organization, we always need more hands.  If you want to see a major change to the event (like a new track or a bigger focus on something that would require more volunteer hours to run), please consider volunteering to be the change you want to see. That's how we got the DIY track, the Eco track, and the Writers' Block, to name a few things.
Join us at our next Con Committee meeting and talk about the future of Penguicon!