The Maker Market applicants have been selected for 2019! We are looking forward to having a Maker Market that is better than ever.
If you'd like to be contacted if room opens up, please email makermarket@penguicon.org.
If you know that you were accepted and have paid, and are not on this list, please email makermarket@penguicon.org with a copy of your PayPal receipt, and we'll get it squared away.
Maker Market Secure Room hours:
Friday – 4pm to 9pm
Saturday – 10am to 9pm
Sunday – 10am to 3pm. 
Hallway hours are determined by each vendor.
Maker Market – Secure Room
---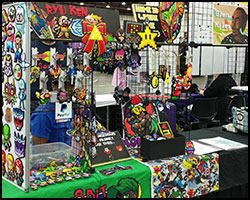 8 Bit Item Shop

Hi! I'm the 8 Bit Enemy and I run the 8 Bit Item shop alongside my partner, Pixel Girl! Come gawk, marvel and stare at our 8 bit items that look like they've been ripped right out of your favorite video games! If you like what you see (and you will) then go ahead and "Buy somethin' will ya!". So come on in and Let's be ENEMIES!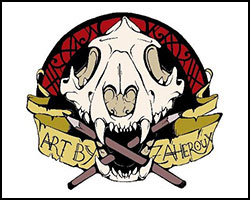 Art by Zaheroux

Art by Zaheroux is the studio of Ann Arbor based artist, Megan Weber. Inspired by Gothic architecture, nature, animals, and a touch of whimsy she creates her illustrations using color pencil.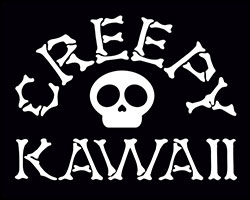 Creepy Kawaii

Creepy cute plush dolls, accessories, and more!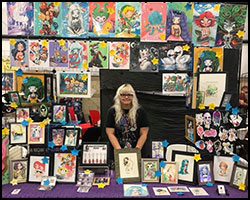 Crystal Mielcarek Illustration

Detroit artist Crystal Mielcarek paints adorable things in desperate situations. Identifying mainly with the lowbrow art scene her work is an odd combination of the cute and the perverse. Her unique style allows the pieces to oscillate freely between whimsical, cute, and sometimes wildly disturbing imagery while maintaining its sense of humor.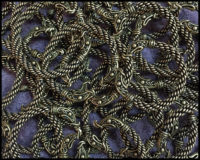 Crafty Celts: Danny Hansen

Historically authentic Celtic and Viking jewelry, as seen in in Vikings, Spartacus, Reign, and Beowulf & Grendel!
All crafted by hand in bronze and sterling silver in our workshop in South Carolina.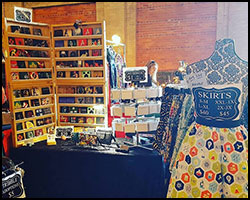 Geeks with Scissors

Everyday Gear for the Everyday Geek. We make useful, durable, spectacularly geeky items for everyday wear and use. Wallets. Purses. Skirts. Bags. Things to show off your geeky side, while being supremely practical.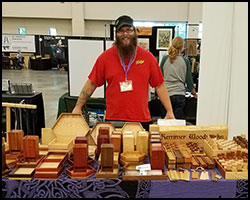 Kemmer Woodworks

Kemmer Woodworks makes quality handmade wood products from both domestic and exotic woods. We offer cutting boards, butcher blocks, plates, bowls and mugs. We also have dice towers, dice trays and dice vaults along with board games such as chess, checkers, mancala and nine man's Morris.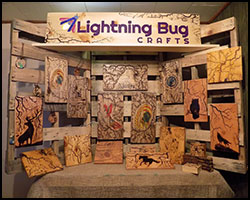 Lightning Bug Crafts

Lightning Bug Crafts was born at Penguicon 2018, after working with our sister business, Lyra's Starshine. We make unique artwork, games, jewelry, and more by wood burning, drawing, painting, inlay, carving, and "captured lightning" pyrography. If it's made of wood, we'll put artwork on it. If not, we'll recreate it.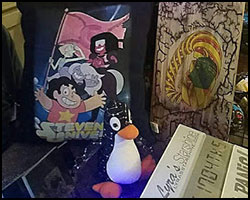 Lyra's Starshine

Lyra's Starshine is a family-run business named for our young daughter, who is named after a constellation. We etch our original and your custom designs into granite and glass, capture lightning in wood, and produce fabric, vinyl and leather arts. From sewn to stone, we'll help you make it your own.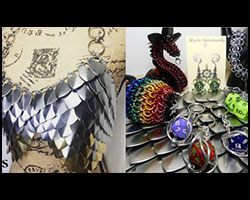 Mystic Metalworks

Mystic Metalworks is a Michigan based company who sells unique, handcrafted chainmaille and scalemaille oddities. From hacky sacks to dice bags to tops, we love finding new ways to use our rings and scales. Stop by to see our latest creations as well as our Penguicon penguin keychains!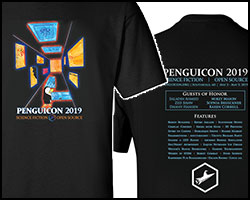 OffWorld Designs

OffWorld Designs has original t-shirt designs including the 2019 Penguicon t-shirts. Stop by for great shirts designed for fans of SF, Fantasy, Gaming, Comics and more. PREORDER YOUR PENGUICON SHIRT TODAY!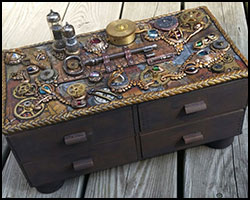 Steampunked

Steampunked is a Mixed Media Steampunk Themed Polymer Clay Artist, combining Clay, metals, vintage and found objects to create sculptural, free standing, wall hanging and wearable art.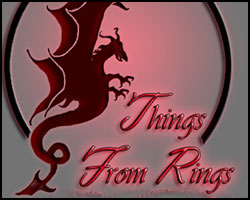 Things from Rings

One of a kind chainmaille and scale maille art. Jewelry, wearable art and household items.
Ties that Bynde Designs

Ties that Bynde Designs specializes in high quality corsetry. We carry a variety of styles and sizes for both men and women to suit many body types. All corset are hand constructed by the owner and designer who has studied corsetry with the best corsetmaker in the world
Maker Market – Hall
---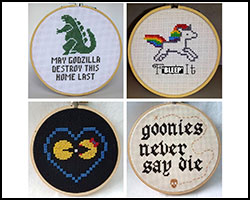 Cassie's Sassy Crafts

These sassy and subversive cross stitches are all handmade, and framed in a wooden embroidery hoop. The perfect gift for anyone who loves sarcasm, cult movie classics, retro gaming, and/or fun pop culture references. Display them on a shelf or hang on the wall. Custom designs available.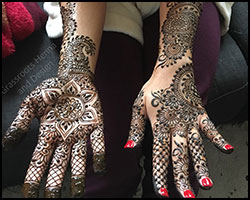 Grassroots Henna and Design

All natural henna paste applied to the skin in intricate and custom patterns that stain the skin for 1-2 weeks. I also create other artwork for purchase that is inspired by traditional henna patterns.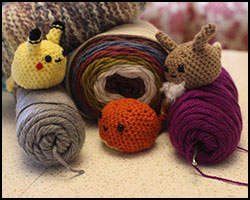 Hylian Words

Originally established with the intent to translate English into Hylian, we evolved into a multi-media crafting business. With us you will find unique goods made by hand, photoshop, and our 3D printer lovelingly known as "Robot Baby".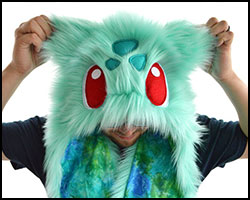 Kawaii Atama

We hand make faux fur hoods to help spice up your cosplay, or bring out your inner beast! We also make shirts, cosplay hoodies, and car decals!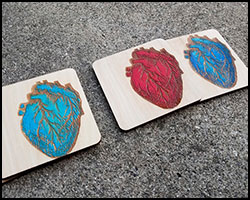 Pipperillo Studios

Pipperillo Studios makes whimsical geek art for you to take home and love. Everything is laser engraved and finished for years of functionality.
Poking Dead Things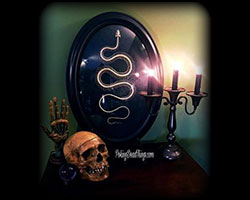 Deathly elegant bone jewelry and home decor. Ethically sourced and naturally processed. We also use seeds, pinecones, flower buds, stones and whatever else we find in nature that's pleasing to the eye. We choose to keep the natural patina on bones instead of bleaching them white, it helps to tell their story. We hope you see the beauty in things that most people overlook or turn away from.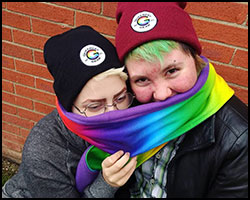 Queerest Gear

Queerest Gear is a queer owned LGBT and geeky accessory business. We have a variety of hats, scarves, patches, buttons, and stickers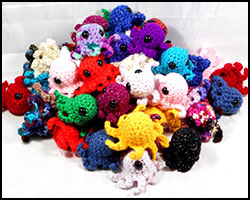 QuietNova Studios

QuietNova Studios presents soft sculptures of every variety, specializing in crocheted ocean critters! Stop by for a custom creation!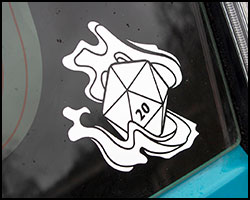 Rachel Manville Designs

Rachel Manville Designs specializes in home goods and accessories including enamel pins, post-cards, artwork, vinyl decals and stickers. In addition to creating and making accessories, Rachel Manville Designs also offers graphic design and illustration services.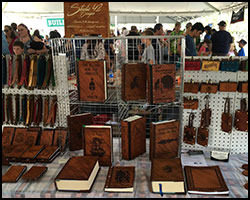 Studio 42 Designs

We make leather covers for novels and sketch books as well as a variety of nerdy leather accessories.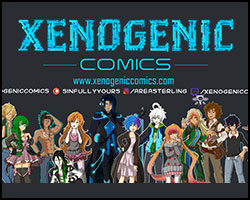 Xenogenic Comics

(Our Best in Show Winner from 2018)
Xenogenic Comics is a small indie comic studio run by Eli and K.P. We do everything from Fan-art to Original Artwork, as well as run 5 vastly different webcomics. So stop on by and see if you see something you like, or if not, chat with us about commissioning what you want to see. Or just stop by and talk nerdy to us, we sorta like that.