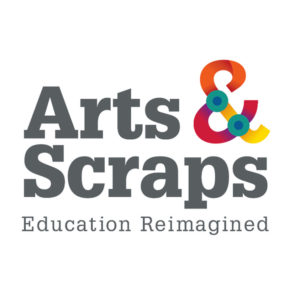 This year, we are sponsoring the Arts & Scraps as our charity. Arts & Scraps is a non-profit located in Southeast Detroit that strives to create innovative and creative learning experiences throughout communities in Michigan! Through field trips, conferences, community events and workshops for both children and adults, Arts & Scraps brings creative and educational experiences to every economic level. Using new and recycled material they create STEM kits that provide kids with a hands on activity to teach new concepts in a fun way.  They recycle 28 tons of materials each year, which they receive from 210 Detroit area businesses or individuals. By preserving recycled materials, they serve 275,000 students through partnering 3,300 community organizations and classrooms annually. You can find their Community Storefront at 16135 Harper Ave, Detroit MI 48224.
Feel free to stop by their table during the weekend and chat with them about their vision. Keep an eye out for their Arts & Scraps Workshop happening during the weekend too!
2019 Charity Silent Auction
Hours:
3pm Friday to 10pm Saturday
How it will work:
Each item will have a description and pictures as well as a minimum starting bid and increment.  To place a bid, you will need to write down your preferred name,  phone number and, of course, your bid on the sheet corresponding to your chosen item.  At the end of the auction, if you have won any item(s) you will be contacted by Penguicon Staff Saturday night to pay for and collect your item(s) before the start of closing ceremonies on Sunday.  Any items not paid for by the start of closing ceremonies will be considered forfeited to the next highest bidder. All proceeds from this auction will go directly to Arts&Scraps!
Donated Items:
Coming Soon, stay tuned!